St. Kilda : Dun

St Kilda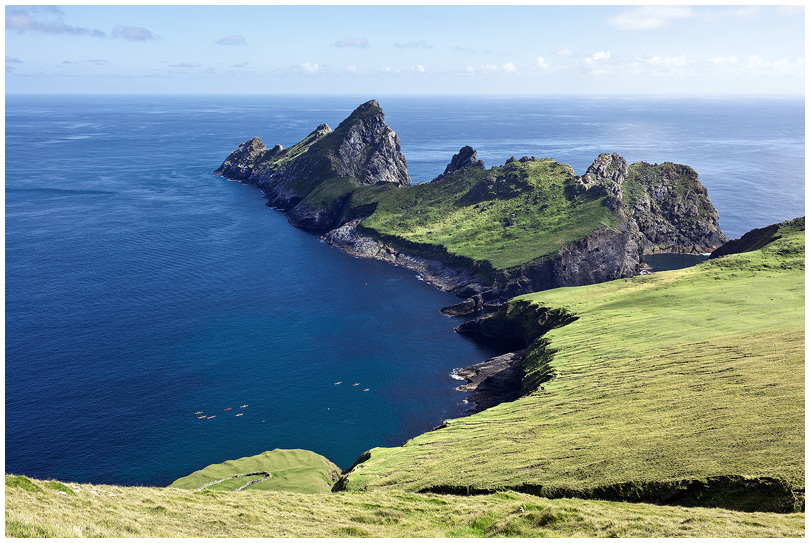 Dun is an island in the St Kilda archipelago. It is nearly a mile long. Its name simply means "fort" in Scottish Gaelic but the fort itself has been lost - old maps show it on the seaward end.Almost joined to Hirta at Ruiaval, the two islands are separated by Caolas an Dùin (the straits of Dùn). This prevents Soay sheep from Hirta straying onto the island, and thus it is more vegetated.The small island is home to the largest colony of fulmars in Britain. Dùn, which protects Village Bay on Hirta from the prevailing south-westerly winds, was at one time joined to Hirta by a natural arch.
Date: 07 August 2013
Location : Hirta, St. Kilda
Canon EOS 5D MkII, Canon 35mm lens, 1/20s f14 ISO 50
Image reference : StK09 © Angus Bruce, Ullapool
AVAILABLE PRODUCTS (more info and price examples on Sales page):
A6 Photocard
Mounted print, hand titled and signed, within cellophane wrapper - size 9"x6" (mounted A4)
Unmounted print supplied in wide-bore roll tube - sizes:
12"x8" (30 x 20cm)
18"x12" (45 x 30cm)
30" x 20" (75 x 50cm)
... and other sizes in 3:2 format ratio
Other finishes available, including canvas, acrylic, aluminium, foamboard. Please enquire.
All images © Angus Bruce, Ullapool, Scotland and may not be reproduced in any form without permission