About Angus
I discovered the joy of photography as a teenager, shooting reels of Kodak Tri-X B&W film and spending hours in school darkrooms instead of studying. My pursuit of photography was (partially) interrupted by a career in the legal profession, but I left the courtroom (and other people's divorces) behind in 2002 when I moved with my family to Ullapool, a beautiful village on the northern coast of Wester Ross - the perfect base to combine my love for the Highlands and my passion for landscape photography.
With some regrets, I have left behind the world of developing drums and caustic chemicals, having embraced the digital age with enthusiasm. My weapon of choice is a Canon 5D MkII DSLR (Voigtlander 20mm, Canon 35 & 50mm primes, 70-200mm telephoto zoom). I also use a Nikon D300. I'm entirely self-taught and so don't have any letters to quote after my name, apart from BALS (Bachelor of Arts Legal Studies) which I tend not to use very much!
I make no apology for specialising in images of the landscape within 40 miles or so of Ullapool. I'm happy to leave Glen Coe, Rannoch Moor etc to the thousands of other DSLR users who flock there (but if I see another photo of "that tree" on Rannoch Moor......). Since I'm local, it enables me to make the most of the best weather conditions in Wester Ross and Sutherland. The light in the northern Highlands from September to April can be superb, and my favourite time is when the days are shortest and coldest - the mountains, glens and lochs come alive in the snow and frost, especially at dawn and dusk.
I don't use on-camera filters, except Lee solid neutral density (to slow things down) and graduated neutral density (to balance the exposure for the sky) and occasionally a polariser (to avoid water reflection). I use Adobe RAW + Photoshop (and plug-ins) to post-process the images (levels, curves, colour temperature and saturation adjustments, sharpening and so on), in a way that seeks to emulate the strong colours and contrast of Fuji Velvia, the landscape photographer's favourite for film cameras.
Black and White was my first love, and I return to this medium whenever possible. I use the Nik Silver Effex Pro Photoshop plug-in, which does a good job in simulating B&W film contrast and grain (eg Ilford FP4 and Kodak Tri-X) and even Pinhole camera effects. I've also created some panoramic images by sewing several images together using Panavue Image Assembler, or with the photomerge automation in Photoshop.
My photographic joy is the landscape around Ullapool, and it is my delight to share it. I run photographic holidays in association with Waterfront Cottage and The Gallery Cafe in Ullapool - come and stay in one of Ullapool's finest self-catering cottages for a week, be guided by me to some great locations and feast at The Gallery Cafe. An unforgettable experience!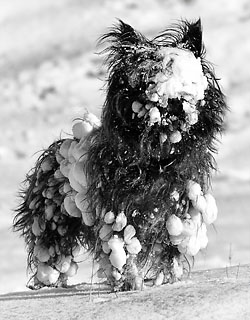 Connie, the Cairn Terrier, is often my companion on winter landscape assignments, and she's not too heavy to carry when the drifts get deep!