Christian Radich

Ullapool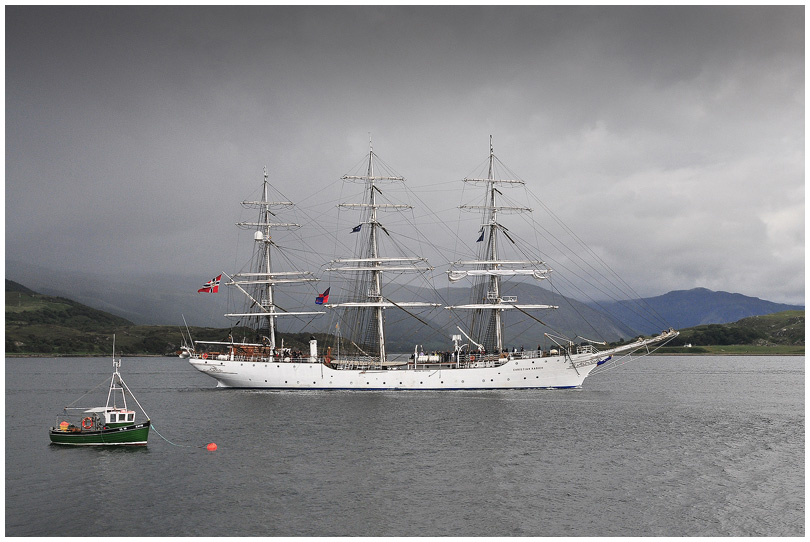 Christian Radich is a Norwegian full rigged ship, named after a Norwegian shipowner. The vessel was built at Framnæs shipyard in Sandefjord, Norway, and was delivered on 17 June 1937. Under engine power, the Christian Radich reaches a top speed of 10 knots, while she can make up to 14 knots under sail. With other tall ships, she visited Ullapool for a weekend visit in July 2011 during a break from the Tall Ships Race.
Date: 15 July 2011
Location : Loch Broom, Wester Ross
Nikon D300 Nikkor lens 20mm 1/1250s f11 ISO400
Image reference u125. © Angus Bruce, Ullapool.
AVAILABLE PRODUCTS (more info and price examples on Sales page):
A6 Photocard
Mounted print, hand titled and signed, within cellophane wrapper - size 9"x6" (mounted A4)
Unmounted print supplied in wide-bore roll tube - sizes:
12"x8" (30 x 20cm)
18"x12" (45 x 30cm)
30" x 20" (75 x 50cm)
... and other sizes in 3:2 format ratio
Other finishes available, including canvas, acrylic, aluminium, foamboard. Please enquire.
All images © Angus Bruce, Ullapool, Scotland and may not be reproduced in any form without permission