Suilven, from Canisp

Black & White

Square version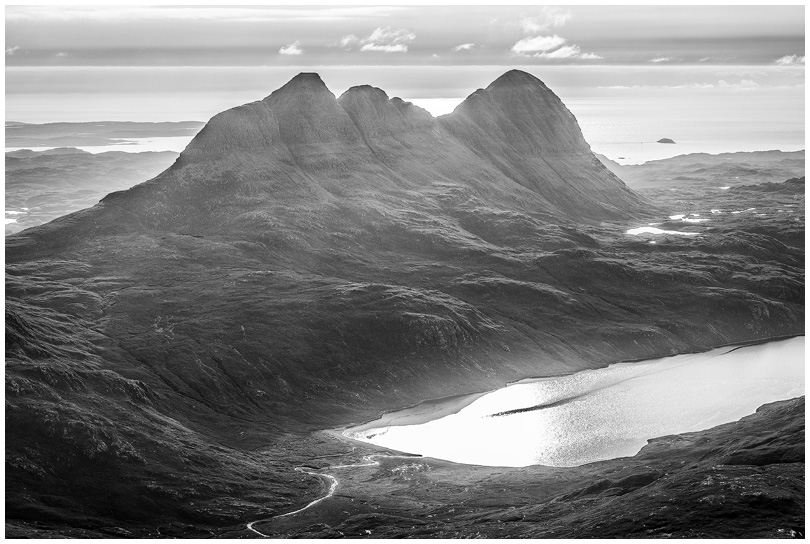 The neighbouring peak of Canisp, to the north-east, displays Suilven at its most daunting and dramatic - the steep slopes and narrow ridge appear significantly more subdued from other angles. The view from Canisp in the late summer through autumn and winter is inevitably into the sun, which bleaches out the colour, but can create a beautiful monotone. In this image the sun is reflecting brightly on the foreground loch (Loch na Gainimh) and on the sea behind, while rays of sunlight cascade oves the mountain ridge itself.
Date: 19 August 2018
Location : Canisp, Assynt, Sutherland
Canon 5DS, Canon 70-200mm @ 70mm 1/250s f11 ISO 200
Image ref bw410 © Angus Bruce, Ullapool.
AVAILABLE PRODUCTS (more info and price examples on Sales page):
A6 Photocard
Mounted print, hand titled and signed, within cellophane wrapper - size 9"x6" (mounted A4)
Unmounted print supplied in wide-bore roll tube - sizes:
12"x8" (30 x 20cm)
18"x12" (45 x 30cm)
30" x 20" (75 x 50cm)
... and other sizes in 3:2 format ratio
Other finishes available, including canvas, acrylic, aluminium, foamboard. Please enquire.
All images © Angus Bruce, Ullapool, Scotland and may not be reproduced in any form without permission