An Teallach summer evening

Mountain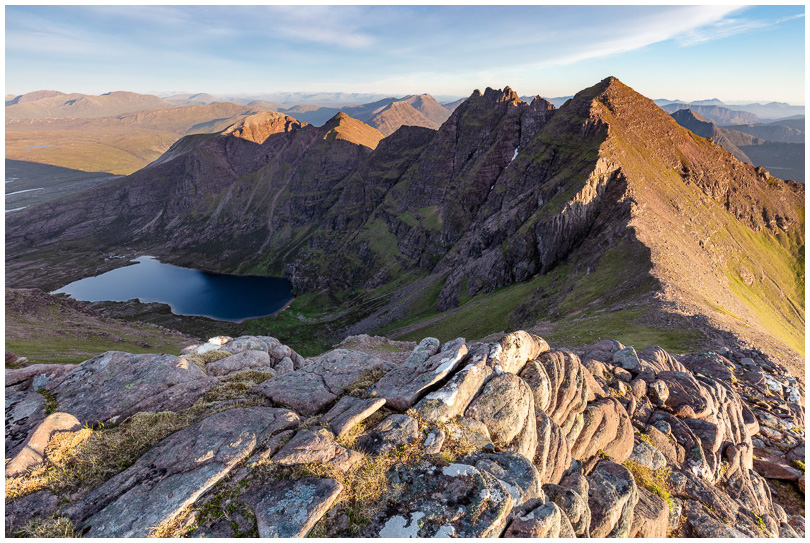 An hour before sunset, and the harsh summer light begins to soften as the sun drops toward the north-western horizon. This view of Sgurr Fiona, Lord Berkeley's Seat and the Corrag Bhuidhe pinnacles, with Sail Liath the domed peak at the southern end of the range, is from close to the summit of Bidean a Ghlas Thuill (the highest of An Teallach's two Munros). Loch Toll an Lochain lies beneath.
Date: 28 June 2021 2115
Location : An Teallach, Wester Ross
Top: Canon 5DS, Canon 16-35mm lens @ 18mm, f9 (focus stack), 1/60s, ISO200
Image reference m536 © Angus Bruce, Ullapool.
AVAILABLE PRODUCTS (more info and price examples on Sales page):
A6 Photocard
Mounted print, hand titled and signed, within cellophane wrapper - size 9"x6" (mounted A4)
Unmounted print supplied in wide-bore roll tube - sizes:
12"x8" (30 x 20cm)
18"x12" (45 x 30cm)
30" x 20" (75 x 50cm)
... and other sizes in 3:2 format ratio
Other finishes available, including canvas, acrylic, aluminium, foamboard. Please enquire.
All images © Angus Bruce, Ullapool, Scotland and may not be reproduced in any form without permission