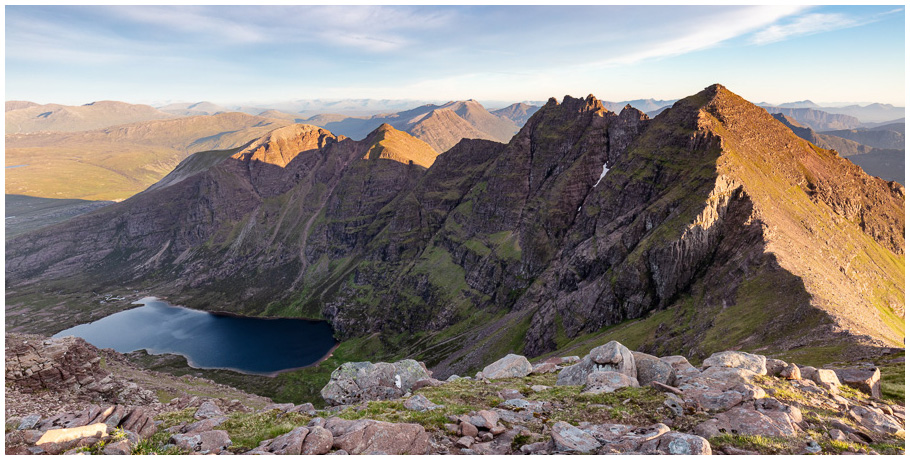 After witnessing a beautiful sunset, an overnight camp on An Teallach followed. I emerged from my tent in the small hours the following morning to witness an extraordinary scene : an ocean of low thick cloud in all directions as far as the eye could see, with only the high mountain peaks exposed. Amazingly beautiful, yet highly unnerving. This view of Sgurr Fiona, Lord Berkeley's Seat and the Corrag Bhuidhe pinnacles, with domed Sail Liath at the southern end of the ridge, is from close to the summit of Bidean a Ghlas Thuill (the highest of An Teallach's two Munros).
Date: 28-29 June 2021
Location : An Teallach, Wester Ross
Top : Canon 5DS, Canon 16-35mm lens @ 20mm 1/25s f14 ISO200.
Image reference p264
Below : Canon 5DS, Canon 16-35mm lens @ 22mm 1/13s f11 ISO200.
Image reference p262 © Angus Bruce, Ullapool.
AVAILABLE PRODUCTS
(more info and prices on Sales page):
Unmounted print supplied in wide-bore roll tube - most sizes in a 2:1 ratio, eg:
20"x10"
Other finishes available, including canvas, acrylic, aluminium, foamboard. Please enquire.