St. Kilda : Cleit, Feather Store & Dun

St Kilda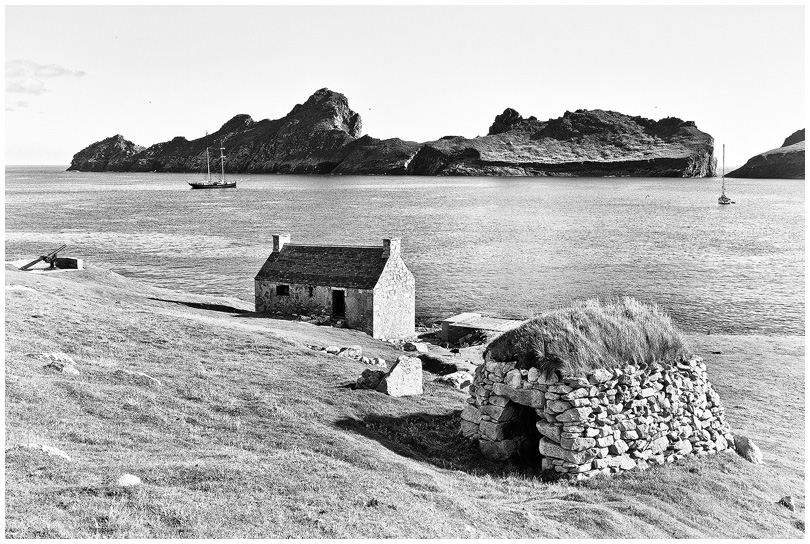 Traditional and "modern" storage : a dry-stone cleit in the foreground, with the Feather Store house behind. The St. Kildans paid rent to the island's Laird in the form of gannet and fulmer feathers, which were kept in the Feather Store and collected once or twice per year. The gun on the left was installed during WW1 after the island had been shelled by a U-Boat (to destroy an antenna). Tthe Tall Ship The Wylde Swan (the world's largest top-sail schooner), lies at anchorin the bay, and the island of Dun is in the background.
Date: 07 August 2013
Location : Hirta, St. Kilda
Canon EOS 5D MkII, Canon 35mm lens, 1/100s f16 ISO 200
Image reference : StK08 © Angus Bruce, Ullapool
AVAILABLE PRODUCTS (more info and price examples on Sales page):
A6 Photocard
Mounted print, hand titled and signed, within cellophane wrapper - size 9"x6" (mounted A4)
Unmounted print supplied in wide-bore roll tube - sizes:
12"x8" (30 x 20cm)
18"x12" (45 x 30cm)
30" x 20" (75 x 50cm)
... and other sizes in 3:2 format ratio
Other finishes available, including canvas, acrylic, aluminium, foamboard. Please enquire.
All images © Angus Bruce, Ullapool, Scotland and may not be reproduced in any form without permission